Welcome to Eyecare Associates
We have been serving Northern Colorado for more than 95 years and pride ourselves in providing excellent care to our patients whether they are new or have been with us for 20 years. We pledge to take care of you as a patient foremost, but also as a customer and friend. Here at Eyecare Associates, you will find people who care.
Things You Will Want to Know About Us
Need to pick up over lunch? We're open!
We have a large staff to take care of you.
We are conveniently located and have plenty of parking.
We have experienced, professional doctors that provide the highest quality care and products.
Our staff is caring and friendly; we put you first.
We have patient-friendly policies.
If you are already a patient at Eyecare Associates, we want to say thank you for placing your trust in us.
If you aren't a patient yet, we hope you'll give us the opportunity to earn that trust.
The Doctors, Opticians, and Staff at Eyecare Associates are here to serve you.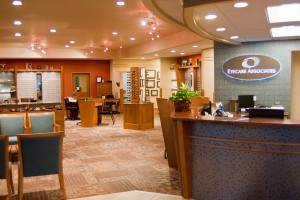 It is the mission of Eyecare Associates to provide the most comprehensive, personalized eye care available in a friendly and professional environment.
Our patients will receive the highest quality services and materials from doctors and staff who remain at the technological and medical forefront of the profession.
State of the Art Eye Care in Our Fort Collins Office
NO AIR PUFF!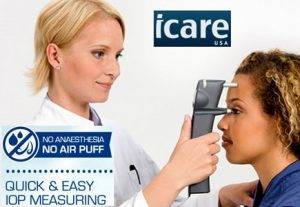 We use iCare Tonometers for easy, accurate and patient-friendly PUFF-FREE intra-ocular pressure measurement. iCare tonometers are based on unique, patented rebound technology, in which a very light and small probe is used to make a momentary contact with the cornea.
No specialized skills for its use the quick and painless measurement is barely noticed by the patient and any anesthesia or inconvenient air puffs are not needed at all. For more information on the Icare® ic100 Tonometer click here.
Daytona Optomap – State of the Art Digital Retinal Exam in Our Fort Collins Office
We are proud to introduce the latest cutting-edge technology in retinal imaging, the Optos Daytona Optomap.
Daytona retinal scan technology is now available in Fort Collins, CO.
This amazing device allows your eye doctor to see retinal, optic nerve and cornea structures not visible through regular exam methods by using light to provide a high-resolution scan meant to pick up early signs of structural change or disease.
Emergency Eye Care in Fort Collins, CO
Eyecare Associates offers emergency services that require immediate and urgent eye care. If your eye is injured, don't try to judge the severity of it. Immediately seek the opinion of an eye doctor to lessen the risk of hurting your vision. We understand ocular emergencies can arise at any time.
Please call our office at: 970-221-4811 for further instructions. Use your best judgment, if you feel this is an emergency, please contact the local emergency room.
Our Patients Say It Best!
Outstanding patient service, from the receptionists, to the optometry technicians, to the doctors, to the opticians. They have all taken great care of me over the last 19 years! I truly appreciate their dedication to eye health....

Click on an icon to review us online.
We are always interested in improving our patients' experience with our Practice. We welcome your feedback and appreciate your time in helping us find new ways to make our patient services exceed your expectations!
The 2-Minute Version: About Us

Welcome to Eyecare Associates. Whether you need a routine eye examination, a contact lens fitting or treatment for eye disease, our optometrist will provide you with the best care, advice, options and follow up. We are committed to providing outstanding eye care with exceptional customer service.

Our eye care office is conveniently located near Colorado State University Veterinary Teaching Hospital. We take pride in taking care of you.

Thank you for trusting us for all your eye care needs.
Monday:8:00 AM - 5:00 PM
Tuesday:8:45 AM - 6:30 PM
Wednesday:8:00 AM - 5:00 PM
Thursday:8:00 AM - 6:30 PM
Friday:8:00 AM - 5:00 PM
Saturday:9:00 AM - 12:30 PM
Sunday:Closed