Welcome to Eyecare Associates
We have been serving Northern Colorado for more than 95 years and pride ourselves in providing excellent care to our patients whether they are new or have been with us for 20 years. We pledge to take care of you as a patient foremost, but also as a customer and friend. Here at Eyecare Associates, you will find people who care.
Things You Will Want to Know About Us
Need to pick up over lunch? We're open!
We have a large staff to take care of you.
We are conveniently located and have plenty of parking.
We have experienced, professional doctors that provide the highest quality care and products.
Our staff is caring and friendly; we put you first.
We have patient-friendly policies.
If you are already a patient at Eyecare Associates, we want to say thank you for placing your trust in us. If you aren't a patient yet, we hope you'll give us the opportunity to earn that trust.
Our Patients Say It Best!
Dr. Reisler is great. He knew what my issue was right away and within a day and half my eyes were much better. His staff is great to work with and so pleasant. Thank you....
Jul 26, 2017
State of the Art Eye Care in Our Fort Collins Office
Whether you wear daily, weekly or monthly disposables, or conventional (vial) lenses, check out our selection of lenses that fit your needs.
Learn about the different types of tests and equipment you may experience on a visit to our Practice.
Learn about eye exams, what's involved in a comprehensive exam, and special considerations for kids and contacts.
Atlantis Scleral Contact Lenses in Fort Collins, CO
Atlantis is a scleral lens design that performs well on any patient with an irregular cornea, including keratoconus, pellucid marginal degeneration, corneal transplants, post refractive surgery, post corneal rings, and ocular surface disease. Scleral lenses have also been utilized on regular corneas, dry eye patients, and athletes. Click here to learn more about Scleral Lenses.
iCare Tonometer: No-Puff Exam in Our Fort Collins Office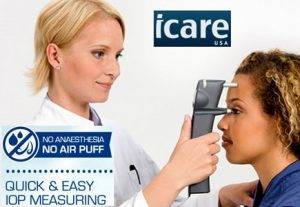 We use iCare Tonometers for easy, accurate and patient-friendly PUFF-FREE intra-ocular pressure measurement. iCare tonometers are based on unique, patented rebound technology, in which a very light and small probe is used to make a momentary contact with the cornea. For more information on the Icare® ic100 Tonometer click here.
Daytona Optomap – State of the Art Digital Retinal Exam
We are proud to introduce the latest cutting-edge technology in retinal imaging, the Optos Daytona Optomap.
Daytona retinal scan technology is now available in Fort Collins, CO.
This amazing device allows your eye doctor to see retinal, optic nerve and cornea structures not visible through regular exam methods by using light to provide a high-resolution scan meant to pick up early signs of structural change or disease.
Eyecare Associates offers emergency services that require immediate and urgent eye care. If your eye is injured, don't try to judge the severity of it. Immediately seek the opinion of an eye doctor to lessen the risk of hurting your vision. We understand ocular emergencies can arise at any time.
Please call our office at 970-221-4811 for further instructions.
The Doctors, Opticians, and Staff at Eyecare Associates are here to serve you.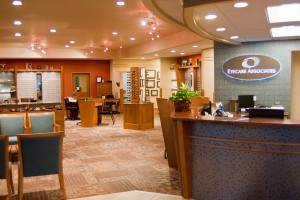 It is the mission of Eyecare Associates to provide the most comprehensive, personalized eye care available in a friendly and professional environment.
Our patients will receive the highest quality services and materials from doctors and staff who remain at the technological and medical forefront of the profession.
The New Year is coming and many people include healthier eating and exercise in their resolutions for the year ahead. Well other than weight loss...
Nov 27, 2017
November 14th is World Diabetes Day. This year, the theme of World Diabetes Day is women and diabetes - our right to a healthy future....
Nov 13, 2017
October is World Blindness Awareness Month, an initiative started to help the public to understand the realities of visual impairment and how it affects the...
Oct 29, 2017
What makes our practice different?
We understand eye care very well, but what makes us different is that we also understand business. We have been seeing patients in Fort Collins since 1919, and over that time our pledge has been to take excellent care of you as a patient foremost, but also as a customer and a friend.
What makes us different? Customer service. A rarity in health care today, but we think you will find a refreshing change at Eyecare Associates. You will find people who genuinely care.
Our main focus is primary eyecare and our subspecialties include low vision evaluation and rehabilitation, brain injury evaluation, custom contact lens design, advanced medical treatment and dry eye treatment.
Our doctors treat all types of eye disease such as pink eye, glaucoma and macular degeneration as well as ocular signs of systemic diseases such as diabetes, multiple sclerosis, stroke and high blood pressure.

Click on an icon to review us online.
We are always interested in improving our patients' experience with our Practice. We welcome your feedback and appreciate your time in helping us find new ways to make our patient services exceed your expectations!
The 2-Minute Version: About Us

Welcome to Eyecare Associates. Whether you need a routine eye examination, a contact lens fitting or treatment for eye disease, our optometrist will provide you with the best care, advice, options and follow up. We are committed to providing outstanding eye care with exceptional customer service.

Our eye care office is conveniently located near Colorado State University Veterinary Teaching Hospital. We take pride in taking care of you.

Thank you for trusting us for all your eye care needs.
Monday:8:00 AM - 5:00 PM
Tuesday:8:45 AM - 6:30 PM
Wednesday:8:00 AM - 5:00 PM
Thursday:8:00 AM - 6:30 PM
Friday:8:00 AM - 5:00 PM
Saturday:9:00 AM - 12:30 PM
Sunday:Closed